Top 6 Destinations in Indonesia
According to Greg Rodgers of Vagabonding Travel Adventures and Stories fame, listed below are the six best travel destinations in Indonesia. With amazing places to visit spread across more than 17,500 islands, you'll never run out of opportunities for adventure and cultural interaction. Indonesia is the world's fourth most populous country. Extreme geographical diversity means plenty of beaches, jungles, and volcanoes are waiting to be enjoyed. Each region is unique and has something to offer intrepid travelers.
While the bulk of visitors only see Bali as one of the top destinations in Asia, Indonesia has plenty more to offer away from the beaten path. Moving across Indonesia's archipelago takes time. However, you're better off focusing on one or two regions to explore rather than rushing around. Use this summary of the main places to visit in Indonesia to better decide where to go first.
1. Bali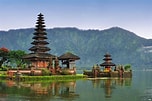 Bali is one of the most visited islands in Southeast Asia and a top honeymoon destination in Asia. The island is a cliché picture of paradise, blessed with wide beaches, blue water, and green volcanic scenery in the interior. There's a reason Bali claims a lion's share of Indonesia's international tourism.
Unfortunately, word has spread and you're going to have to share Bali's paradise.
Further, unlike the rest of Indonesia, which is primarily Islamic, Bali is predominantly Hindu, lending the island a completely different vibe. Scores of artists, writers, and people interested in holistic healing have also settled in Bali because of the unique, health-boosting atmosphere.
Don't assume that Bali is all resort life and beaches. The Kintamani region in the interior is lush and gorgeous, while Ubud is famous as the cultural center.
Top reasons to travel to Bali:
Romantic escapes

Luxurious resorts

Massage, healing spas, and holistic health centers

Boutique shopping

A good place for beginner surfing

Nightlife in Kuta

Hindu Temples and Culture

Volcanic villages
2. Sumatra
Sumatra is the largest island in Indonesia and the sixth-largest in the world. In addition, the massive slice of land is split by the equator on the western edge of Indonesia and is a dream come true for adventurous travelers or people interested in rainforests and endangered species. Sumatra is one of only two places left in the world where you can see wild orangutans (Borneo is the other).
Most tourism in Sumatra is centered around the northern part of the island where Lake Toba, the largest volcanic lake in the world, dominates the area. Also, a new island, Pulau Samosir, has risen up in the center of the lake and is home to Batak, Karo, and other indigenous people that once practiced head-hunting and ritualistic cannibalism.
Top reasons to travel to Sumatra:
Adventure travel

Orangutans and other endangered species

Swimming and lounging around Lake Toba

Trekking in Gunung Leuser National Park

Climbing active volcanoes

Indigenous culture
3. Lombok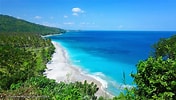 Lombok, Bali's big island neighbor to the east, is the second stop for many travelers who have finished with Bali. Further, the government is promoting Lombok as the next major tourism hotspot as developments in Bali rage forward.
Mount Rinjani, an active volcano, dominates the landscape and towers to 12,224 feet. The volcano can be climbed in two to four days; a guide and permits are required.
The Popular Gili Islands
Lombok's biggest attraction is the chance to visit one or all three of the beautiful Gili Islands just off the coast. Moreover, Gili Trawangan, or simply Gili T, is the largest and most popular with backpackers. Parties rage throughout the week and drugs appear openly on menu boards.
Gili Air, the mid-sized island, is a nice compromise with lots of beauty but not too much seclusion. Finally, Gili Meno is the smallest and most isolated of the three islands. Lots of couples and families head there for the quiet.
Top reasons to travel to Lombok:
Paradise islands

The big party scene on Gili T

Cheap scuba diving

Good surfing in Kuta Lombok (not to be confused with Kuta, Bali)

Exciting Gunung Rinjani trek
4. Java
Java, the oblong-shaped mass stretching between Sumatra and Bali, is the most populous island in the world; more than 50 percent of Indonesia's massive population calls the area home.
In addition, Java is busy and crowded in places, but bustling with real Indonesian culture, and yes, Java is the epicenter for the famous coffee of the same name. Also, when Krakatoa—a volcano off the west coast—erupted catastrophically in 1883, the blast produced the loudest sound in modern history and was heard 3,000 miles away.
Gunung Bromo, an active volcano in Java, is the most visited in Indonesia. Travelers freeze at the top of the massive caldera while waiting for a spectacular sunrise.
Top reasons to travel to Java:
The sprawling metropolis of Jakarta

Experience modern Indonesian life

Mount Bromo and famous volcanoes

The cultural city of Yogyakarta
5. East Nusa Tenggara—Flores and Komodo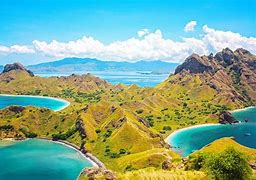 A mouthful to say, East Nusa Tenggara includes Flores, Komodo, Timor, and the chain of islands stretching east of Lombok.
In short, Flores is a place for rugged travelers who aren't afraid to get a little dirty. A bumpy road stretches throughout the chain with plenty of opportunities for villages, volcanoes, and undeveloped beaches. Further, Flores is predominantly Roman Catholic, so again, the vibe here is different than in the rest of Indonesia.
In addition, Komodo and Rinca Island in the Komodo National Park, are famous for the endangered Komodo dragons. People willing to cross some of the most dangerous currents in the world to one of the two islands are rewarded with both adventure and a chance to see man-eating lizards in the wild. Also, diving around Komodo is one of the most challenging and rewarding things in the world.
Top Reasons to Travel to East Nusa Tenggara:
Rugged adventure travel

Undeveloped beaches

Untouched volcano trekking

Komodo dragons

World-class diving for experts

A chance to cross into East Timor

A visit to the colorful, volcanic lakes of Kelimutu
6. Sulawesi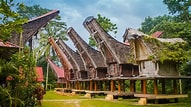 The twisted, tentacled island of Sulawesi is situated just east of Borneo and north of Flores. The unique shape of Sulawesi also betrays the travel experience there: tough and different.
Moving through the interior of Sulawesi takes time and isn't for the faint of heart. Also, those who put in the sweat and effort are rewarded with adventure, indigenous culture, and some of the most beautiful islands in the world.
The Togean Islands and Kadidiri, located in the center of Sulawesi's flailing arms, are hard to reach but offer incredible diving opportunities. Wild camping is available and a few all-inclusive dive retreats draw in a handful of intrepid travelers. The water visibility is phenomenal. You will also find plenty of sharks and even saltwater crocodiles frequent the area.
Visitors head to Tana Toraja, south of Sulawesi, to experience indigenous culture and to see bizarre funeral rituals where the bodies of the deceased are often kept for years and numerous buffalo are slaughtered in sacrifice.
Top reasons to travel to Sulawesi:
Get off the tourist track

See ritual animal slaughters

Learn about local culture and witness funeral rites

World-class scuba diving

Beautiful, undeveloped islands
To Use The Promo ⇓ Code And Book Your Flight, Just Click The Book Now Flashing Button Below!
OTHER INTERESTING READING ON INDONESIA
Geography
Indonesia is a country located off the coast of mainland Southeast Asia in the Indian and Pacific Oceans. It is an archipelago that lies across the Equator and spans a distance equivalent to one-eighth of Earth's circumference. In short, its islands can be grouped into the Greater Sunda Islands of Sumatra (Sumatera), Java (Jawa), the southern extent of Borneo (Kalimantan), and Celebes (Sulawesi). Also included are the Lesser Sunda Islands (Nusa Tenggara) of Bali and a chain of islands that runs eastward through Timor. The Moluccas (Maluku) between Celebes and the island of New Guinea, and the western extent of New Guinea (generally known as Papua) round out the country's provinces. The capital, Jakarta, is located near the northwestern coast of Java. Furthermore, in the early 21st century Indonesia was the most populous country in Southeast Asia and the fourth most populous in the world.
Climate In Indonesia
Indonesia lies along the equator, and its climate tends to be relatively even year-round. Indonesia has two seasons – a wet season and a dry season – with no extremes of summer or winter. For most of Indonesia, the dry season falls between May and October, with the wet season between November and April. In short, Indonesia's climate is almost entirely tropical, dominated by the tropical rainforest climate found in every large island of Indonesia. Also, more cooling climate types do exist in mountainous regions that are 1,300 to 1,500 meters (4,300 to 4,900 feet) above sea level. The oceanic climate prevails in highland areas adjacent to rainforest climates, with reasonably uniform precipitation year-round. Moreover, in highland areas near the tropical monsoon and tropical savanna climates, the subtropical highland climate is prevalent with a more pronounced dry season.
Regions
Some regions, such as Kalimantan and Sumatra, experience only slight differences in rainfall and temperature between the seasons. Others, such as Nusa Tenggara, experience far more pronounced differences with droughts in the dry season and floods in the wet. Rainfall varies across regions, with more in western Sumatra, Java, and the interiors of Kalimantan and Papua. Less rainfall in areas closer to Australia, such as Nusa Tenggara, which tend to be dry.
The almost uniformly warm waters that constitute 81% of Indonesia's area ensure that land temperatures remain relatively constant. Humidity is quite high, at between 70 and 90%. Winds are moderate and generally predictable, with monsoons usually blowing in from the south and east in June through October and from the northwest in November through March. Also, typhoons and large-scale storms pose little hazard to mariners. However, significant dangers come from swift currents in channels, such as the Lombok and Sape straits.
Several studies consider Indonesia to be at severe risk from the projected effects of climate change. In addition, these include unreduced emissions resulting in an average temperature rise of around 1 °C (2 °F) by mid-century, raising the frequency of drought and food shortages. Rising sea levels would also threaten the majority of Indonesia's population who dwell in low-lying coastal areas. Impoverished communities would likely be affected the most by climate change.
Economy of Indonesia
Indonesia has a mixed economy in which both the private sector and government play vital roles. As the only G20 member state in Southeast Asia, the country has the largest economy in the region and is classified as a newly industrialized country. Per a 2021 estimate, it is the world's 16th largest economy by nominal GDP and 7th in terms of GDP at PPP, estimated to be US$1.159 trillion and US$3.507 trillion, respectively. The per capita GDP in PPP is US$12,882, while the nominal per capita GDP is US$4,256. The debt ratio to GDP is 29.2%. Services are the economy's largest sector and account for 43.4% of GDP (2018), followed by industry (39.7%) and agriculture (12.8%). Since 2009, it has employed more people than other sectors, accounting for 47.7% of the total labor force, followed by agriculture (30.2%) and industry (21.9%).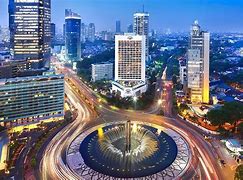 Structure of the Economy
Over time, the structure of the economy has changed considerably. Historically, it has been weighted heavily towards agriculture, reflecting both its stage of economic development and government policies in the 1950s and 1960s to promote agricultural self-sufficiency. A gradual process of industrialization and urbanization began in the late 1960s and accelerated in the 1980s as falling oil prices saw the government focus on diversifying away from oil exports and towards manufactured exports. This development continued throughout the 1980s and into the next decade despite the 1990 oil price shock, during which the GDP rose at an average rate of 7.1%. As a result, the official poverty rate fell from 60% to 15%. Trade barrier reductions from the mid-1980s made the economy more globally integrated. The growth ended with the 1997 Asian financial crisis that severely impacted the economy, including a 13.1% real GDP contraction in 1998 and a 78% inflation.
Culture
The cultural history of the Indonesian archipelago spans more than two millennia. Influences from the Indian subcontinent, mainland China, the Middle East, Europe,] and the Austronesian peoples have historically shaped the cultural, linguistic, and religious makeup of the archipelago. Further, as a result, modern-day Indonesia has a multicultural, multilingual, and multi-ethnic society, with a complex cultural mixture that differs significantly from the original indigenous cultures. Indonesia currently holds eleven items of UNESCO's Intangible Cultural Heritage, including a wayang puppet theatre, Kris, Batik, Pencak silat, Angklung, and the three genres of traditional Balinese dance.
Art and Architecture in Indonesia
The Arts
Indonesian arts include both age-old art forms developed through centuries and recently developed contemporary art. Despite often displaying local ingenuity, Indonesian arts have absorbed foreign influences—most notably from India, the Arab world, China, and Europe, due to contacts and interactions facilitated, and often motivated, by trade. Painting is an established and developed art in Bali, where its people are famed for their artistry. Their painting tradition started as classical Kamasan or Wayang style visual narrative, derived from visual art discovered on candi bas reliefs in eastern Java.
There have been numerous discoveries of megalithic sculptures in Indonesia. Subsequently, tribal art has flourished within the culture of Nias, Batak, Asmat, Dayak, and Toraja. Wood and stone are common materials used as the media for sculpting among these people. Between the 8th and 15th centuries, the Javanese civilization developed a refined stone sculpting art and architecture influenced by the Hindu-Buddhist Dharmic civilization. The temples of Borobudur and Prambanan are among the most famous examples of the practice.
Indonesian Architecture
As with the arts, Indonesian architecture has absorbed foreign influences that have brought cultural changes and profound effects on building styles and techniques. The most dominant has traditionally been Indian; however, Chinese, Arab, and European influences have also been significant. Traditional carpentry, masonry, stone, and woodwork techniques and decorations have thrived in vernacular architecture, with the number of traditional houses (rumah adat) styles that have been developed.
Traditional houses and settlements vary by ethnic group, and each has a specific custom and history. Examples include Toraja's Tongkonan, Minangkabau's Rumah Gadang and Rangkiang, Javanese style Pendopo pavilion with Joglo style roof, Dayak's longhouses, various Malay houses, Balinese houses and temples, and also different forms of rice barns.
Wayang, the Javanese, Sundanese, and Balinese shadow puppet theatre display several mythological legends such as Ramayana and Mahabharata. Other forms of local drama include the Javanese Ludruk and Ketoprak, the Sundanese Sandiwara, Betawi Leong, and various Balinese dance dramas. They incorporate humor and jest and often involve audiences in their performances.
Some theatre traditions also include music, dancing, and silat martial arts, such as Randai from the Minangkabau people of West Sumatra. It is usually performed for traditional ceremonies and festivals and is based on semi-historical Minangkabau legends and love stories. Modern performing art also developed in Indonesia with its distinct style of drama. Notable theatre, dance, and drama troupes such as Teater Koma are famous as they often portray the social and political satire of Indonesian society.
The first film produced in the archipelago was Loetoeng Kasaroeng, a silent film by Dutch director L. Heuveldorp. The film industry expanded after independence, with six films made in 1949 rising to 58 in 1955. Usmar Ismail, who made significant imprints in the 1950s and 1960s, is generally considered the pioneer of Indonesian films. In addition, the latter part of the Sukarno era saw the use of cinema for nationalistic, anti-Western purposes, and foreign films were subsequently banned, while the New Order utilized a censorship code that aimed to maintain social order.
Production of films peaked during the 1980s, although it declined significantly in the next decade. Notable films in this period include Pengabdi Setan (1980), Nagabonar (1987), Tjoet Nja' Dhien (1988), Catatan Si Boy
(1989), and Warkop's comedy films.
Independent Filmmaking
Independent filmmaking – was a rebirth of the film industry in 1998, where films started addressing previously banned topics, such as religion, race, and love. Between 2000 and 2005, the number of films released each year steadily increased. Riri Riza and Mira Lesmana were among a new generation of filmmakers who co-directed Kuldesak (1999), Petualangan Sherina (2000), Ada Apa Dengan Cinta, (2002), and Laskar Pelangi (2008). In 2016, Warkop DKI Reborn: Jangkrik Boss Part 1 smashed box office records, becoming the most-watched Indonesian film with 6.8 million tickets sold.
Indonesia has held annual film festivals and awards, including the Indonesian Film Festival (Festival Film Indonesia) held intermittently since 1955. Further, it hands out the Citra Award, the film industry's most prestigious award. From 1973 to 1992, the festival was held annually and then discontinued until its revival in 2004.
Cuisine
Indonesian cuisine is one of the world's most diverse, vibrant, and colorful, full of intense flavor. Many regional cuisines exist, often based upon indigenous culture and foreign influences such as Chinese, European, Middle Eastern, and Indian precedents. In addition, rice is the leading staple food and is served with side dishes of meat and vegetables. In short, spices (notably chili), coconut milk, fish, and chicken are fundamental ingredients.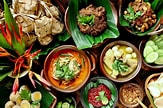 Popular Dishes
Some popular dishes such as nasi goreng, gado-gado, sate, and soto are ubiquitous and considered national dishes. The Ministry of Tourism, however, chose tumpeng as the official national dish in 2014, describing it as binding the diversity of various culinary traditions. Their popular dishes include rendang, one of the many Padang cuisines along with dendeng and gulai. Another fermented food is oncom, similar in some ways to tempeh but uses a variety of bases (not only soy), created by different fungi, and is prevalent in West Java.
Just Click The ⇓ Book Now Flashing Button Below To Use The Promo Code And Book Your Flight!