What Is A Skiing Trip Package?
A skiing trip package, simply, is a combination of some or all of the different parts that go into making a ski and/or snowboard vacation.  Think airline tickets, hotel rooms, ski lift passes, equipment hire, lessons, and shuttles!  Also, your skiing trip package can vary.  Some offer more components than others.  For example, flights, resort transfers, accommodations, ski or snowboard hire, and lift passes.  In addition, these could be brought together and offered at a single price as a skiing trip package.  Further, other components of a skiing trip package are things like car hire, ski lessons, winter sports insurance, mountain activities, and other extras specific to individual ski resorts.  Also, you will receive a Low Fare Guaranteed!

Skiing Trip Package – Ski North America
Places to Ski in the West
Keystone
Skiers and snowboarders of all skill levels will appreciate what Keystone has to offer.  Complete with three ski mountains (Dercum Mountain, North Peak, and The Outback), five bowls, and 121 ski trails.  Also, Keystone is a winter-sports enthusiast's paradise.  Note:  Flight service for Keystone vacations is into Denver.
Keystone offers plenty of things to do off the mountain, including ice skating, Nordic skiing, hiking, snowmobiling, gondola rides, tubing, wine tasting, and fine dining.

Also, home to the country's largest night-skiing program.
Lake Tahoe
Enjoy crisp mountain air while skiing, cross country skiing, snowboarding, snowmobiling, snowshoeing, snow-tubing, ice skating, and more.  Further, include a mix of casinos, art galleries, museums, shops, and restaurants located throughout Lake Tahoe for more fun.  Note: Flight service for Lake Tahoe vacations is into Reno, Nevada.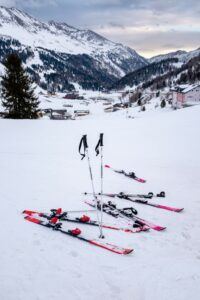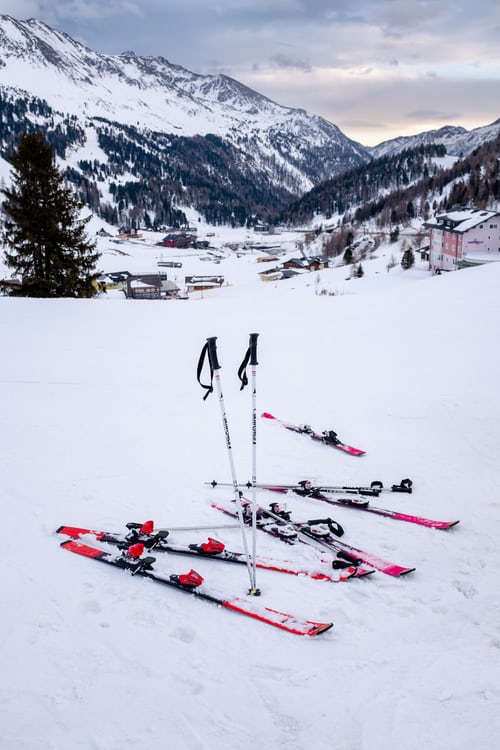 Squaw Valley offers Lake Tahoe's most extensive and exciting night terrain and includes the 3.2 mile Mountain Run.

Northstar-at-Tahoe Resort's beginner teaching area has been expanded and redesigned to include more of the sculpted terrain that helps improve the learning curve for beginning skiers and snowboarders.

Heavenly's music scene is anything but small-town.  Also, on any given night, you can catch everyone from current recording artists and DJs to an impressive lineup of local legends-in-waiting.
Park City
With a mountain boasting a summit of 10,000 feet, 106 ski trails over 3,300 acres, four terrain parks, and a superpipe, Park City is a skier's dreamland that won't disappoint. In addition, the 355 inches of snow that fall on the mountain each year makes for a pleasurable ride down Park City's uncrowded ski runs.  Note: Flight service for Park City vacations is into Salt Lake City.
Home of the U.S. Ski Team, Park City offers 106 trails and 3,300 acres of skiable terrain.

Park City Ski Area offers a variety of terrain that suits every ability level and skier need.

In addition, four six-passenger high-speed lifts, one high-speed quad, five triples, and four doubles with a total combined lift capacity of 27,200 guests per hour.

100 total trails–18 easier, 44 more difficult, and 38 most difficult–each 1/4 to 3 1/2 miles long covering 3,300 acres of terrain with 750 acres of bowls in Jupiter, Scott's, Blue Slip, McConkey's, Homelite, and Puma bowls.
Vail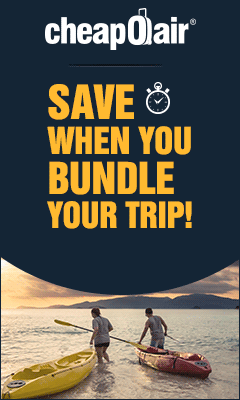 Vail is the single largest mountain in North America, featuring a good mix of ski run difficulties, 34 ski lifts, and three distinct areas to ski/snowboard on the mountain. Also, guests can enjoy 5,289 acres of terrain to ski freely with seven bowls, and four terrain parks. A ski vacation to Vail, Colorado is a skier's dream come true.  Note: Flight service for Vail vacations is into Denver.
Vail's lift system includes 14 high-speed quads, a gondola, and a network of 18 other chair lifts to ensure easy access and minimal lift lines.

Vail is a skier's paradise with a combined yearly average of 346 inches of snowfall and 300 days of sunshine.

With 5,289 acres, Vail is the largest single ski mountain in North America, featuring seven powdery bowls, the backcountry skiing of Blue Sky Basin, and the front side.

World-class dining, shopping, galleries, après ski, nightlife, and spas are all just steps from a range of accommodations to suit every budget and task.
Winter Park
Plenty of white-powder snow in Winter Park settles on the mountains that are home to over 130 ski runs, 25 lifts, breathtaking views, and slopes for skiers of all ages and skill levels.  Also, relax in your luxury accommodations or explore the Fraser Valley in a snowmobile.  Note: Flight service for Winter Park vacations is into Denver.
The Winter Park Ski and Ride School offers a variety of programs for every ability level.

On top of world-class skiing, Winter Park is the perfect place to try ice skating, tubing, snowmobiling, snowshoe tours, and much more.

With 370 inches of snowfall per year, Winter Park is the perfect winter wonderland for enjoying a snowy vacation package.
Skiing Trip Package – The Ten Best Ski Resorts In The East
You're probably thinking, 'why on earth would anyone ski the East?' Well, East Coast ski resorts actually stack up pretty well against their competition out West!  In short, it's true the snow is wetter and there's more ice but less-than-perfect conditions have kept the soul of skiing strong in the East.
10. Wildcat Mountain Ski Resort
Pros
2,112 ft of uninterrupted vertical and a fast lift to lap it

The best mountain views in the East

Stay in the classic New England ski village of North Conway
Cons
Ski area feels limited when ungroomed terrain is closed

Chairlift to the summit is frequently closed when the wind picks up

Basic base lodge in desperate need of updating
Known for: The 3 mi Polecat trail, it's the longest novice ski run in New Hampshire!
Best mountain views of the East!
First impressions are deceiving at Wildcat!  So don't let the dated base lodge and lack of facilities put you off! Just slide aboard the Wildcat Express Quad to be whisked up the mountain in no time, and you really won't care about what's available down below.  Further, from base to summit on one lift, it's possibly the fastest in all New Hampshire.  Also, once you reach the 4,062 ft peak of Wildcat Mountain, the greatest view of Mount Washington will stun you before the skiing even begins!
Take the Wildcat Express Quad to the summit
Terrain:
There's no denying that the terrain here is best suited for advanced skiers.  The upper intermediates will have a blast too.  Experts can take the Wildcat Express Quad to the summit to lap the 2,112 ft vertical.
One great thing about this place is that all the runs meet up at the same spot, making it difficult to get lost, so family ski trips work well here.  Also, the perfect run for all abilities is the Polecat trail, a gentle green cruiser winding down the mountain from the summit to base.  It has 80 acres of excellent side-country glades to keep things interesting!
Wildcat's biggest downfall is that there's only one lift serving the summit.  When windhold grinds it to a halt, you lose access to a lot of trails on the mountain (including Polecat).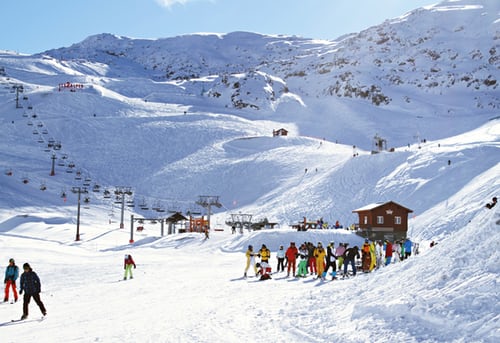 Polecat trail
Town:  There's also nothing in the way of accommodation, restaurants, or nightlife on the mountain, so once the day's skiing is done this place completely closes up for the night. Don't worry though, the famed après-ski of North Conway village is just down the road and best of all, it was recently rated the Best Ski Town in America.
Trails: Beginner 20% / Intermediate 47% / Expert 33%
Cost: One Day Lift Pass – Adult $79-$85 / Youth $59-$64 / Senior $59-$64
9. Mad River Glen
Pros
Skiing doesn't get much more authentic than this!

Experts will find plenty to challenge them

This place is all about skiing on natural snow

Skiers only
Cons
Trails are often not groomed and the snowmaking operation is severely limited

Expect long lift lines on weekends and powder days

Skiers only
Known for:  Its gnarly terrain, natural beauty, and being a proud skier-owned mountain!
The iconic single chair lift
Now here's a rare breed of ski resort, in fact, it isn't really a ski resort at all, it's a ski co-operative owned and managed by the skiers who shred here! Mad River Glen is like a living museum harking back to the way skiing used to be, a true legend of the skiing world. They spent millions to refurbish their famous single chairlift, which is one of only two single chairs in the entire country!  If you're ready to test your mettle then it's about time you took on Mad River Glen.  As their motto goes, 'Ski it if you can'.
Terrain:
The ski terrain on offer here is diverse, complete with natural glades, steep bumps, and narrow winding trails cut to follow the natural contours of the mountain. While there's only 115 ac of ski area, it's one of the best in the East for clocking up vertical on expert terrain. All 2,037 ft of drop here can be raced from top to bottom with no flat spots to slow you down! Perhaps the gnarliest run here is dubbed Paradise, covered with trees and rocks to dodge, along with a frozen waterfall that you've got no choice but to huck off!
The local skiers who call this mountain home love it for the same reasons that many visiting skiers might hate it. The lifts are slow and queues can be irritatingly long on weekends, plus trail grooming is practically non-existent. Other minor issues of note are the limited lodging options and snowmaking capabilities at the resort. Despite all this, I'd say Mad River Glen offers one of the most unusual and unique skiing experiences in the country and is not to be missed!
Trails: Beginners 18% / Intermediate 35% / Expert 47%
Cost: One Day Lift Pass – Adult $89 / Junior $72 / Senior $72
8. Cannon Mountain
Pros
A classic state park mountain for real skiers!

Quality extreme terrain and serious racing runs on offer

Dedicated beginners area is perfect for learning the basics
Cons
No luxury whatsoever, it's a state park after all…

Aerial tramway doesn't run mid-week, remember not to get caught out and stranded!
Known for:  Genuine state park skiing with quieter slopes than Killington and Stowe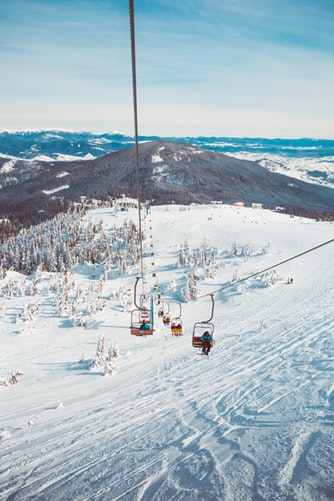 Views of Echo Lake
Nestled within Franconia Notch State Park, Cannon Mountain truly is a local's mountain, where real skiers come to race the black runs and tear through the trees. Owned and operated by New Hampshire State, this isn't a ski resort of glamour and glitz, but it does have some remarkable skiing heritage. The first aerial passenger tramway in North America opened here in 1938, which paved the way for skiing to reach mountains all over New Hampshire and the rest of the East! It also hosted the first World Cup race ever held in North America in March 1967!
Intermediate run Taft Slalom
Terrain:
There's no denying that the terrain here leans in favor of advanced skiers, with plenty of glades and moguls runs scattered around the mountain. One trail not to miss is DJ's Tramline, a long and narrow black complete with sketchy cliff steps and peppered with boulders! This one's only open when there's plenty of snow to cover it, so ski it if you dare. You'll also find a reputable ski race training center here, which isn't surprising when you consider that Olympic champion Bode Miller grew up skiing these slopes.
Nothing is sugar-coated at Cannon, but that's all part of its hardcore skier atmosphere. While there are 97 trails to choose from, mountain riders come here especially for the tough steep terrain on offer, but there are enough trails for intermediates, with some trails starting at the summit. The easiest way to reach the summit from the base is by taking the Aerial Tramway, but beware this doesn't operate during weekdays, so you'll need to take two other lifts to reach the top.
Cannon Mountain
Town:  What Cannon Mountain doesn't provide is much off the slopes, so forget ski-in/ski-out hotels or fancy restaurants. Your best bet for somewhere comfortable to stay is in nearby Lincoln or Littleton, both around a 15-minute drive away.
Trails: Beginner 15% / Intermediate 52% / Expert 33%
Cost: One Day Lift Pass – Adult $77 / Junior $55 / Teen $64 / Senior $55
7. Whiteface Mountain Resort
Pros
Largest vertical drop in the East

Exquisite expert terrain available at The Slides

Dedicated beginner ski area
Cons
Trail layout has not been designed with intermediates in mind

Expect freezing temperatures, it lives up to its nickname of 'Iceface'

No accommodation at the spartan base area, with the nearest lodgings at Lake Placid
Known for:  Its expert technical terrain and having hosted the Winter Olympics, twice!
View of Lake Placid from the Whiteface Mountain summit
Whiteface is home to the most challenging ski resort terrain available anywhere in the East, a real powder playground for advanced skiers and snowboarders. Also, the Slides area is its crowning glory with true double black diamond terrain including 35 acres of off-piste wilderness skiing down narrow chutes and tight trees. Furthermore, this shouldn't put beginners off though, as there's a whole section of the mountain reserved for gentle green trails, safely away from the speed demons racing down the steeps.
Whiteface Mountain
Terrain & Snow quality:
If you count vertical drop on top to bottom skiing, not just the distance from the summit to base, then Whiteface is undeniably number one in the East. Hike less than 300 ft from the Summit Quad chair and you'll have 3,430 ft of vertical drop to shred straight down to the base at 1,220 ft! While experts and beginners are well served at Whiteface, intermediates could find the resort frustrating. In my experience, many of the blue trials channel into chokepoints on the mountain, resulting in fun-sapping slow sections.
Maybe this is why the resort gets a raw deal from some, labeled 'Iceface' for the numbingly cold conditions and questionable snow quality that can be encountered while skiing here. It's true that lack of snowfall can have a seriously detrimental effect on a skier's experience here, as without enough white stuff the amazing terrain of The Slides won't be opened up to ski. However, besides The Slides and The Glades, 99% of the trails here are kept covered by an extensive snowmaking operation firing on all cylinders!
Town:  There is no accommodation at the base of Whiteface Mountain.  Lake Placid is your best bet for accommodation and off-mountain dining.
Trails: Beginner 20% / Intermediate 42% / Expert 38%
Cost: One Day Lift Pass – Adult $68-$94 / Junior $44-$58 / Teen $54-$74 / Senior $54-$74
6. Killington Resort
Pros
With 1,509 ac of skiable terrain, it's the biggest ski area in the East!

Best ski resort in Vermont for nightlife

Handy local shuttle bus means it's simple to park up and get skiing in no time
Cons
Inefficient trail and lift layout could leave you confused on the mountain

Difficulty in skiing from summit to base makes total vertical drop misleading

There are on-mountain dining options, though you could enjoy a better meal off-mountain
Known for:  Enjoying the longest ski season across the entire East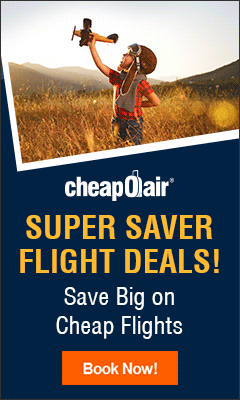 View of Killington from Pico Mountain
A perennial favorite among New York City skiers, along with mountain riders from across New Jersey and the rest of the Mid-Atlantic states.  Killington is quite rightly nicknamed 'The Beast of the East'!  Encompassing seven different mountain peaks, including Pico Mountain which is connected via a shuttle bus. In addition, you'll find 212 trails to explore covering a mammoth 92 mi. With top-notch freestyle parks, plenty of double-diamonds, and corduroy cruisers perfect for family skiing, this place ticks all the boxes!
Ready to ski at Killington?
Snow quality:  
Killington's average annual snow record of 250 inches is complemented by its impressive snowmaking operation, covering 600 acres of the resort.  Can you believe there are 1,700 snow cannons here!  These keep the main trails open and contribute heavily to the resort staying open longer than any other ski destination in the eastern US. Thanks to its reliable artificial snow the resort has become a firm fixture on the FIS Ski World Cup, hosting the only race to be held anywhere in the East.
Terrain:
With so much ski area and a variety of trails, from groomers to mogul steeps, Killington's terrain has something for everyone. From the summit, intermediate skiers can enjoy Juggernaut, the 4 mi trail which is the longest ski run at Killington. For the ski run with the most vertical, check out the Great Eastern Trail. Park rats can enjoy six terrain parks including The Stash, which has over 65 features. Don't be fooled by Killington Peak's total vertical drop at 3,050 ft though, as the inefficient lift system and confusing trail layout means it is difficult to ski from the summit to base all in one run. From the lowest base at Skyeship, you'll need to take three chairlifts to reach Killington peak!
Skyeburst, an intermediate run 

Town: There's no denying that Killington is an incredibly popular place to ski and snowboard, but it's not just the slopes that visitors come here for.  In my opinion, the amazing après-ski is an attraction in itself, and some people visit as much for the nightlife as the skiing. More and more young professionals are taking part in season rental shares here, which keeps business booming! For excellent places to eat and drink, you'll find countless options along the access road leading into the resort.
Trails: Beginner 28% / Intermediate 33% / Advanced 24% / 15% Expert
Cost: One Day Lift Pass – Adult $115 / Youth $89 / Senior $98
5. Jay Peak
Pros
It is the snowiest ski resort in the East

An abundance of glades to ski, with pitches from steep to gentle

New base area development includes luxury lodgings and an indoor water park
Cons
There aren't many groomers to keep intermediate skiers entertained

Off the slopes, there's no real town nearby

The nearest airport and metro area is in Montreal which requires a border crossing
Known for:  Having a wide variety of glades for the finest tree skiing anywhere in the East.  It has a huge indoor waterpark with hot tubs!
Welcome to Jay Peak
Out of all the ski resorts in the East, Jay Peak is number one when it comes to the sheer quantity of powder. Official stats put the average annual snowfall at 349 inches, with most of the light and fluffy stuff blanketing the ski area. Combine a trip to the 3,968 ft summit with a fresh dump and you'll find a powder-filled steep called Face Chutes, where jump turns and face shots are part of the bargain! Once this trail gets bumped up, advanced skiers will also have over 100 acres of dedicated off-piste to explore. Just be aware, Jay Peak has the least reliable snowfall reporting in the East, and snow reports can be sugar-coated here even when the slopes are not.
Tree skiing here is a must at Jay Peak!
Terrain:
There's plenty to like about this ski resort, but I'd say the best thing about it is the tree skiing. There are gently-sloped glades suitable for all skiing abilities, along with deep powder steeps jam-packed with trees.  Also, it's a fantastic place to learn about skiing natural terrain, and even if you're an expert you'll still have plenty of fun here. On the other hand, there's a serious lack of compelling corduroy cruisers, leaving lovers of a groomed piste unfulfilled.
The Pump House
Town:  There are loads on offer at Jay Peak; there's plenty of comfortable accommodation, an ice skating rink, and The Pump House, a huge indoor waterpark complete with slides, hot tubs, and even a FlowRider! One thing that's still missing here is any nightlife, so if you want to party, look elsewhere.
Trails: Beginner 20% / Intermediate 40% / Advanced 40%
Cost: One Day Lift Pass – Adult $85 / Junior $66 / Senior $59 / Toddler $22
4. Sugarloaf
Pros
Link to neighboring Burnt Mountain opens up a huge backcountry-style area

Most important, 2,820 ft of vertical puts it in the same league as many ski areas out West

Lots of glades to explore, plus cat skiing
Cons
Limited lodging options near the mountain

Also, the resort is isolated, far from airport and city

Recent lift accidents have left a blemish on Sugarloaf's safety record
Known for:  Being home to the only lift-serviced skiing above the tree line across the entire East
Sugarloaf Summit
Since opening in 1950, Sugarloaf has grown into the second-largest ski area in the East, after Killington, with 1,240 acres of skiable terrain and the third-highest vertical drop at 2,820 ft!  Also, up at the 4,237 ft summit, you'll have The Snowfields ahead of you, a collection of double black diamond runs all above the tree-line!  There's also the new Brackett Basin backcountry area, serving up steep chutes and powder tree skiing. For the truly adventurous, take the snowcat up Burnt Mountain to access Sugarloaf's side country featuring over 100 acres of powder-filled fun including rugged terrain.  Further, you'll find the only lift-serviced above-treeline skiing in the East here.
Sugarloaf
Snow:
One of Sugarloaf's greatest assets is its prime location in northern Maine, where it can take full advantage of huge powder dumps thanks to big nor'easters spinning off in the North Atlantic providing 200 in of annual snowfall. Also, this helps to create a deep snowpack that doesn't always happen at other New England ski resorts, particularly in Vermont.  Here lots of light snowfall is much more common.  Further, even when the natural white stuff is patchy here, 618 acres of the ski terrain is covered by snow cannons to blast away those bald spots!
The Snowfields at Sugarloaf
Town:  Without a doubt, skiing is the main attraction at Sugarloaf, so don't expect a glitzy ski village or many off-mountain activities.  Also, it's pretty much in the middle of nowhere, a long drive from the closest major cities of Boston or Montreal. With that said, the base area does have a light sprinkling of decent lodging options, eateries, and drinking holes, not to mention an annual Reggae Fest.  Further, this year it's turning thirty, so expect the biggest party yet!
Trails: Beginner 23% / Intermediate 34% / Advanced 27% / Expert 16%
Cost: One Day Lift Pass – Adult $85-$95 / Junior $65-$68 / Teen $75-$79 / Senior $65-$69
3. Stowe Mountain Resort
Pros
Plenty of challenging terrain to explore

The quaint ski village in Stowe is one of Vermont's best

Ticket covered by Epic Pass
Cons
Long lift queues

Also, it is the most expensive ski resort in the East

Traffic jams are common when skiers leave the resort in the evening
Known for:  Offering a delightful combination of expert ski terrain with indulgent hospitality
Nose Dive – an intermediate trail
Welcome to "The Ski Capital of the East".  The nickname bestowed upon Stowe by its lucky inhabitants.  Downtown Stowe is a pretty ski village with old-world New England charm.  Further, it is surrounded by Mt Mansfield – the tallest peak in Vermont and Spruce Peak.   Also, you'll find some of the most gnarly skiing in the East here, along with luxurious hotels, and plenty of pampering off the slopes. No wonder Vail Resorts snapped it up!
Ski Stowe
Snow quality & Terrain:
Stowe has become one of the most popular ski resorts in Vermont for good reason.  In addition, its snow record is one of the best in the East with an annual snowfall of 314 inches. Even when the natural white stuff is in short supply, the snowmaking operation here covers 83% of the 485 acres ski area.  Also, you can get as high as 3,625 ft on the Gondola, with 2,360 ft of vertical drop back down to the base area.  Further, there are a whole bunch of groomed trails offering speedy fall line routes down the mountain.
Be prepared for the long lift queues though, as well as the traffic jams that occur when skiers leave the resort in the evening.  Also, the resort is the most expensive in the East but luckily it's covered by the Epic Pass.
T-Line, an intermediate trail at Stowe
Town:  Off the slopes, there's more fun to be had in the town of Stowe.  It has a vibrant local brewery scene.  Also, if sampling craft beers sounds like your idea of a perfect après-ski activity, I'd say head straight to the Alchemist Brewery. Throwback a few samples, pick your favorite brew, and fill up your cooler with a few cans of exquisitely named beers like Focal Banger and Heady Topper!  Also, that's really just the start though because there are more than 50 different restaurants and bars to try out in Stowe!
Trails: Beginner 16% / Intermediate 55% / Expert 29%
Cost: One Day Lift Pass – Adult $94-$99 / Child $80-$84 / Senior $87-$92
2. Sugarbush Resort
Pros
Fantastic variety of terrain spread out over two mountains

Great lift system provides quick and easy access to slopes

Also, Doesn't suffer from crowds like similar resorts nearby
Cons
It's a long and slow ride on the lift connecting the two ski areas

Also, restaurants here get very busy, don't expect a table without a reservation

Not much in the way of decent nightlife
Known for:  Not suffering from the big crowds usually found at nearby Killington and Stowe
Mt Ellen, one of two interconnected mountains at Sugarbush
Sugarbush really is an overlooked gem among its peers. Most skiers head to nearby Killington, Stowe, or Mad River Glen over this double mountain resort.  So why shouldn't you do the same?  To put it simply, Sugarbush offers practically everything that those more popular ski areas boast, minus the crowds.  Furthermore, if you fancy schussing down a freshly groomed slope without queuing for a lift or dodging snow plowers this could be just the place for you!
Powder mornings at Lincoln Peak
Terrain:
The resort consists of two interconnected mountains, Lincoln Peak, where the majority of trails are, and Mount Ellen.  Also, other lower peaks include Castle Rock, Gadd Peak, and North Lynx.  For the type of gnarly terrain you would expect from Mad River Glen, just hop aboard the Castle Rock Double chair to Castle Rock. From the top at 3,812 ft, you'll have the steep double black chutes of Lift Line and Rumble to get stuck into. If clocking up maximum vertical drop is more your thing then you'll find the slopes here laid out much better for top-to-bottom shredding than at Killington.  Hence, even if you ski all 111 trails here, there's also 2,000 acres of backcountry to explore in the Slide Brook Basin area!
Sugarbush is not without its shortcomings. The time-consuming journey on the Slide Brook Express Quad to move between the resort's two main ski areas is a real pain.
The slow Slide Brook Express Quad transfer 

Town:  If all that wasn't enough, Sugarbush is generally a notch cheaper than pricey Stowe, but not at the sacrifice of luxury. For lavish lodgings, look no further than Lincoln Peak Village. Also, for these reasons and more, when it comes to the most practical ski destination in Vermont, Sugarbush is my top pick.
Trails: Beginner 23% / Intermediate 43% / Advanced 27% / Expert 7%
Cost: One Day Lift Pass (Early Season Rates) – Adult $79 / Youth $65 / Senior $65
1. Mont Tremblant
Pros
Diverse terrain suitable for all levels

One of the most vibrant ski villages on the East Coast

Also, excellent nightlife right next to the slopes

A bilingual resort, with both English and French spoken
Cons
Far from major towns and cities in Eastern USA

Also, it gets very cold here, even by Eastern standards

Weekend crowds can be overwhelming
Known for:  Feeling like you're in a European ski town without the transatlantic airfare price tag
The Disneyland of the ski world
Cross the border into Canada to find a ski resort that feels a world away.  Also, Tremblant is the Disneyland of the ski world with its colorful old Quebec-style village and cobblestone streets.  It's picture-perfect and pedestrianized, with street performers and musicians entertaining on the streets.  Equally important, the 665 acres and 96 trails to ski here are the real deal.
Expo trail – begins as double diamond run and becomes an intermediate
Snow quality & Terrain:
For one of the biggest challenges on the mountain, start off with the steepest trail in eastern North America, the double black diamond Dynamite run with a pitch of 42 degrees!  In addition, if tree skiing is your thing then go for some tight turns in the glades.  The Edge section of the mountain, on the North Side, is great for this.  Also, to keep things family-friendly, the greens of La Crête, Nansen Haut, and Nansen Bas all join up to make the most of Tremblant's 2,116 ft of vertical drop.  Most important, the 178 inches of annual snowfall here is a bit lacking compared to ski resorts of the West.  Luckily, they have over 1000 snow guns to cover 465 acres of ski terrain.
Bullseye – an authentic steakhouse at the base village
Town:  Way back in 1939, on the slopes of Mont-Tremblant, Canada began skiing.  It's now a one-of-a-kind resort destination.  Mont-Tremblant is a pricey place to stay.  Also, it is one of only two ski resorts in the East that has nightlife worth writing home about.  Consequently, weekends can be a bit crowded.  A lot of Montrealers come here to be seen. Also, don't forget to rug up here as average temperatures in January are as low as 10 °F!
Trails: Beginner 21% / Intermediate 32% / Expert 47%
Cost: One Day Lift Pass – Adult $66-$78 / Child $38-$44 / Youth $46-$52 / Senior $59-$70
Skiing Trip Package – 10 Nice Ski Resorts Near Washington D.C.   
Colorado, California, and the Northeast certainly aren't the only places with world-class powder in the U.S.  In short, you can find more than a handful of ski resorts within a short drive from Washington, D.C.
Surrounding the nation's capital are nearby ski areas that offer snowboarding, snow tubing, snowshoeing, and more.  Also, these eastern slopes accommodate both experts and beginners.  Further, you can be a newbie and still enjoy the runs around Washington, D.C.  All offer gear rental and lessons.

Liberty Mountain Resort
The aptly-named Liberty Mountain Resort is the closest to the nation's capital. It is located just 8 miles southwest of historic Gettysburg.  Further, Liberty has 16 trails and three terrain parks, serviced by nine lifts, with complete snowmaking coverage.  Amenities include snow tubing, lessons, equipment rental, a child-care center, a hotel and conference center.  Also, it has an array of restaurants and bars.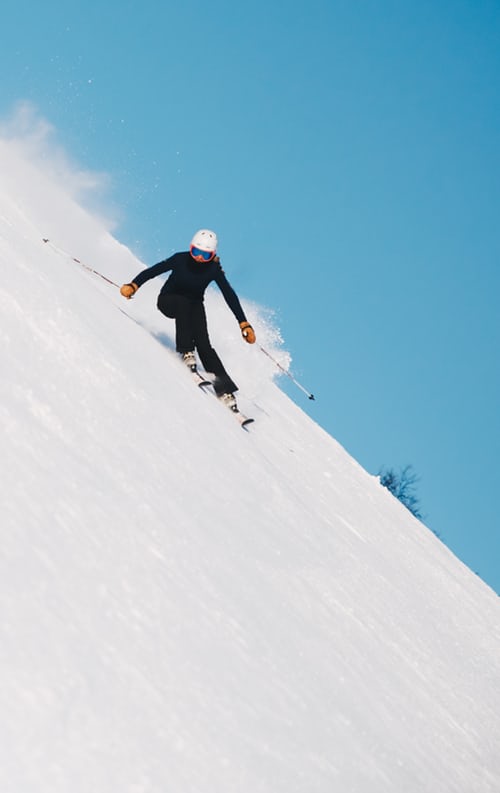 Whitetail Resort
This family-friendly resort is in Mercersburg, Pennsylvania.  In addition, it offers nine lifts and two terrain parks, with 100-percent snowmaking coverage.  Newbies can rent gear and take lessons on-site. It also offers a snow-sports program for children and adults with mental and physical challenges.
Roundtop Mountain Resort
Beginners are welcome at Roundtop Mountain Resort because of its three-day Discovery Package. This guarantees you'll be a "superhero of snow" by the end of it.  Also, if you don't take to skiing and snowboarding, you can go tubing or paintballing at the park.  Furthermore, there are nine lifts and a terrain park here with a superpipe and halfpipe.
Bryce Mountain Resort
This four-season resort is in the heart of the Shenandoah Valley, Virginia.  Also, it is conveniently located near Shenandoah National Park and offers skiing, snowboarding, racing events, and lessons.  In addition, nearby are historical sites and wine vineyards.  The property is a member-owned resort.  However, all activities and facilities are open to the public.  Members do have access to additional benefits and amenities.
Massanutten Resort
Let the kids explore Massanutten's indoor waterpark if they don't fancy skiing. The lazy river and tube slides are fun for any age after a day out on the slopes.  Also, this resort resembles an authentic mountain village.  Consequently, you'll think you're in the Swiss Alps rather than just a couple hours from Washington, D.C.  In addition, after dark, you and the family can bundle up for a bit of night skiing.
Wintergreen Ski Resort
Located in the heart of Central Virginia's Blue Ridge Mountains, this four-season resort features two championship golf courses.  Also the resort has an award-winning tennis program, a full-service spa, hiking, fly fishing, horseback riding, swimming, and mountain biking.  In addition to skiing, snowboarding, and snow tubing.  It should be noted that the park is for daytime playing only because it doesn't have any on-site accommodations.   However, there are condominiums and vacation homes around the area.
Canaan Valley Resort & Conference Center
A ski resort with its very own ice skating rink? You got it. While it might sound cliché, Canaan Valley Resort really does have something for the whole family.  A fitness center, a pool, a spa, miles of hiking and biking trails, cross-country skiing, and swanky restaurants.  In addition, it has 42 trails, three chairlifts, and two magic carpets.  It also has snowmaking on more than 75 percent of the mountain.
Wisp Ski Resort
Maryland's only ski resort is located near Deep Creek Lake in Garrett County. The resort offers a wide range of winter activities.  These include skiing, snowboarding, snow tubing, outdoor ice skating, snowshoeing, snowmobiling, and sleigh rides.  Also, there are seven chairlifts, five surface lifts, and four freestyle parks.  The area is one of the most scenic in the state and makes a great getaway destination.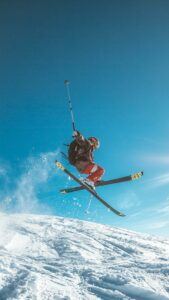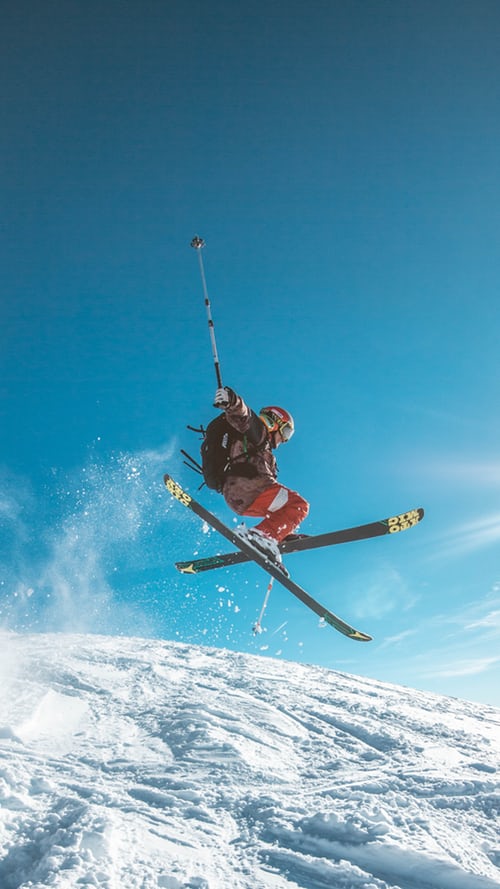 Seven Springs Mountain Resort
Seven Springs is a 5,000-acre ski resort located in Pennsylvania's Laurel Mountains, an hour south of Pittsburgh.  Also, the resort is open year-round and offers snowmobile tours, snowcat rides, snowshoe tours, an indoor pool.  In addition, hot tubs, mini-golf, a game room, roller skating, and a fitness room are available too.   Seven Springs has a hotel on-site for your convenience.  Therefore, you can stay for days without boredom.
Snowshoe Ski Resort
It may be the furthest from the city, but Snowshoe's 57 trails over 251 ski-able acres are worth the drive.  It's the biggest ski area in the region.  Further, the resort gets the most snowfall of any that are drivable from Washington, D.C.  Also, the mountain is 4,848 feet tall and has a vertical drop of 1,500 feet.  Consequently, the many hotels and lodges dotted around the area make this destination a great long-weekend retreat.